Toilet Accessories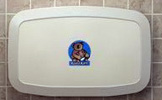 Click through to the websites of these manufacturers to compare different models of Toilet Accessories.
ASI has provided an extensive range of washroom accessories since 1961.
Bobrick offers over 750 products for public washroom facilities.
Bradley is the industry's leading manufacturer of commercial plumbing fixtures and washroom accessories.
Broan is North America's largest producer of ventilation products and also produces other bathroom accessories.
Gatco is an innovative leader in providing the finest in fashion bath accessories.
Koala Care makes a complete line of baby changing station models and commercial child seating options.
Kohler manufactures an entire line of modern fixtures and accessories for home and commercial kitchens and bathrooms.