Entrance Mats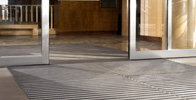 Click through to the websites of these manufacturers to compare different models of Entrance Mats.
American Floor Products designs & distributes matting, modular carpets, recessed mats & grates, corner and wall guards, handrails, wall panels, carpet protectors, mats, special logo mats, rugged matting, matting in rolls, athletic & sport flooring, and more.
Mats Inc. delivers quality commercial matting and flooring solutions.
Reese Enterprises has more than 80 years of experience in manufacturing weatherstrips and thresholds along with many other door and floor products.