Welcome to Bartley Sales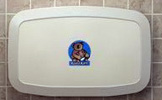 Established in 1928, Bartley Sales is the Upper Midwest's oldest and largest distributor of Division 10 Specialty products for the commercial construction industry.
With more than 80 years of experience, we strive to provide excellent service and the widest selection of architectural specialty products to general contractors and end users alike.
Please take a look at the products we supply. Ask us how we can meet your needs now and in the future.
Let our experts assist you in selecting the appropriate specialty products for your next commercial construction project:
• Do you need assistance meeting ADA requirements or LEED certification? Our staff can be of assistance.
• Confused about computer flooring? We can help.
• Unsure of current USPS mailbox regulations? Just ask us.
Bartley Sales also offers product installation if you require a turnkey service.
We can also help you easily track down the parts you need to repair or update previously purchased items. One call or e-mail to us can save hours of internet searches or phone calls.

A photo of Bartley Sales circa 1964.